The Toybox is a $300 FDM 3D printer that is marketed towards younger kids. The printer is operated over Wi-fi on an app that kids can use to print drawings or choose from a file catalog. The Toybox printer is simple to operate but has very low functionality for its price point.

We recommend printers like the Anycubic Kobra or Kingroon KP3S that have increased functionality and more quality of life features. When 3D printer shopping for kids, choosing a printer like the two mentioned will allow them to grow into an advanced user, and the entire family will have the opportunity to take advantage of its capabilities.
Table of Contents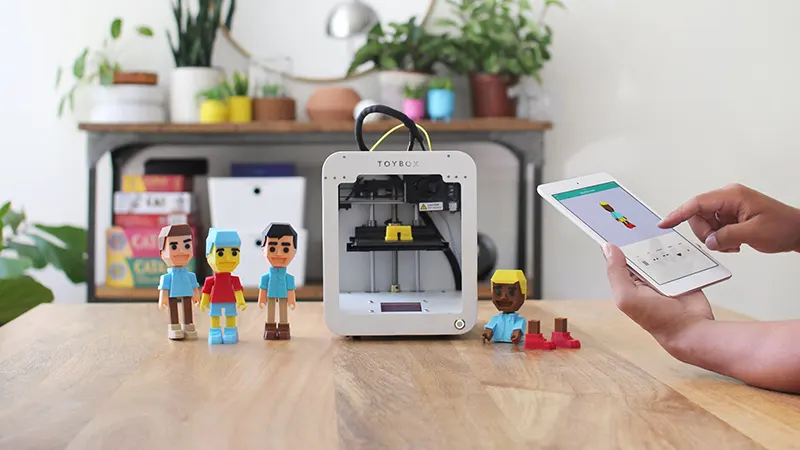 Photo credits: (c) Toybox - toybox.com
The Toybox printer has a small build volume
The Toybox's build volume is 70 x 80 x 90 mm or 504 cubic centimeters.

The majority of FDM printers on the market today are at least 220 x 220 x 250 mm or 12,100 cubic centimeters. This makes the Toybox's build volume at least 24 times smaller than most printers.
The Toybox printer does not have a heated bed
While PLA is one of the filaments that does not necessarily require a heated bed, using one can increase the chance of success for a print.

The Toybox printer does not have a heated bed, which explains why one of the more common issues is prints detaching from the bed.
The Toybox printing relies on the app and Wi-Fi
The only method of printing for the Toybox printer is over Wi-Fi, while most printers allow for SD cards and USB drives.

This makes the functionality of the printer rely on the stability of the Toybox servers, your internet, and your local Wi-Fi connection.
The Toybox printer is still not safe for young kids
The Toybox printer uses a metal nozzle that is heated to ~200°C (392°F) which is pretty toasty. All FDM 3D printers use elevated temperatures to melt the plastic, and curious kids can be burned if they are intent on touching the nozzle.

PLA is one of the safest filaments you can use with a printer but it is still not without some small risks. Printing with PLA can release nanoplastic particulates and trace amounts of tetrachloroethylene, formaldehyde, and methyl methacrylate gasses. This can be mitigated by having a small air filter next to the printer - the air filter should have a MERV or HEPA particulate filter and activated carbon, ideally granules.
The Toybox printer food is expensive
The Toybox printer food is 0.5 lb spools of PLA that sell for $10-14 each, which is $42-62 per kg.

In comparison, Hatchbox and Polymaker PLA is well-received and only $25 per kg. There are plenty of other quality brands that sell PLA in 1 kg spools for $20.
What are the benefits of the Toybox printer?
Printing is pretty straightforward for simple prints, when it works.
There is a flexible magnetic bed for easy print removal.
There is a vast catalogue to select prints from, but some of the files are paid.
The Toybox app allows kids to draw an object and print it right away.
What are the alternatives to Toybox?
There are a few $200 FDM printers that are decent but they often lack features or quality control.

You will see Creality printers, such as the Ender 3, being suggested to you, and we can not recommend any of those printers since they are generally poorly designed and the company has poor quality control. The only exception is Creality's S1 or S1 Pro.

Instead, printers like the Anycubic Kobra and Kingroon KP3S below have the additional quality of life features. These companies are known for producing reliable printers. The Anycubic Kobra is widely-available and quite affordable. We have a Kobra and believe that is brings ~80% of the quality of a Prusa MK3S for 30% of the cost.
Ultimate Resin Guide - compare resin printers, resin material, and equipment

Preparing for Resin Printing - setting up an enclosure, heating, ventilation, filtration, and cleaning equipment

FDM Printers Guide - comparison table and top picks for filament printers

Resin Properties or Filament Properties - comparison table and top picks for materials
Disclaimer: You assume all responsibility and risk for the use of, but not limited to, the resources, advice, and opinions of 4D Filtration or its employees. 4D Filtration or its employees do not assume any liability or create any warranty for the use of any information. 4D Filtration may receive commissions for referral links. Prices are approximated for simplicity and they may fluctuate due to sales or markdowns. Amazon .com should refer you to your local amazon site if you are not in the United States; there is a chance Amazon's link redirect system will take you to a different product.