free USA Domestic shipping!
International shipping is available
Resin Printing Air Filter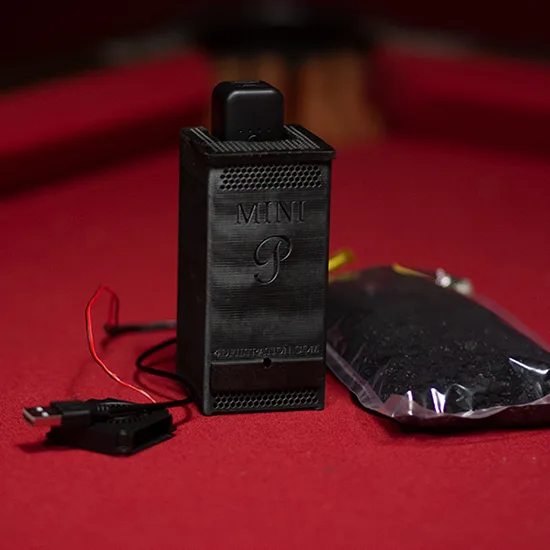 P Mini
Features
Activated carbon for mitigating fumes inside a resin printer cover
Printable on the smallest of resin printers
Uses a <1 W, 40 x 10 mm blower fan
Charge lasts up to 36 hours with recommended battery pack
Specifications
| | |
| --- | --- |
| Fan Voltage | 5 V |
| Fan Current | 0.14 A |
| Power Consumption | 0.7 W |
| Battery Capacity | 5,000 mAh |
| Operating Time (Max Battery Charge) | 36 Hours |
| Dimensions | 53x53x113 mm |
| Dimensions (With Battery, No USB) | 53x53x133 mm |
| Carbon Capacity | 50 g |
*Specs based off the recommend setup of the 5 VDC blower and the battery pack

P Mini FAQ
The P Mini can only be printed with resin due to the geometry. With enough interest, we may release a FDM-printable variant.
Absolutely! Just remember that only VOCs are reduced and not particulates, and as with the resin printers, it is ideal to place the P Mini inside an enclosure/lid.
Yes, any air cleaner will not be able to capture all of the fumes generated from resin. The P Mini exists as a tool to mitigate the fumes generated at the source.
Related Items