Nylon is easily one of the most popular 3D printing filaments available, and outside of additive manufacturing, nylon is one of the most used plastics worldwide.

Since nylon has favorable properties that give it durability and strength, it can be use for a wide array of applications. However, nylon is not an entry-level filament. Most nylon filaments require high-temperature printers, the filament absorbs ambient moisture, and the dimensional stability can be compromised by shrinkage and warping.
Table of Contents
Advantages of Nylon:
Impact & fatigue resistance
High mechanical strength
Temperature resistance
Abrasion resistance
Small friction coefficient
Disadvantages of Nylon:
Hygroscopic (absorbs moisture)
Strength & rigidity loss in humid environments
High printing temperatures
Prone to warping
High shrinkage
Uses for Nylon
Functional applications for nylon could include gears, screws, nuts, bolts, cable ties, rope, seals, wheels, bearings, electrical connectors, and housings.

Nylon is used in consumer applications such as toothbrush bristles, fishing line, tents, rain protection, shoes, furniture, and luggage.
Properties of Nylon vs various Filament and Resin
Carbon and glass fiber blends of nylon filament provide the most strength for the material.

Carbon and glass fiber nylon will have the highest temperature resistance for the material, but there are a few MSLA resins that have a higher HDT value.

If you need high-strength flexibility from a filament then nylon 6 would be more appropriate than TPU or OBC.
High-Temp FDM 3D Printers for Nylon
Most nylon filaments require an all-metal hotend FDM printer that can reach nozzle temperatures up to 300°C. An enclosure is commonly recommended.
Types of Nylon Filament
Nylon 6-66
Nylon 6-66 is a combination of nylon 6 and 66 that is formulated to increase printability, moisture resistance, and dimensional stability.

Nylon 6-66 is formed using the monomers caprolactam, hexamethylene diamine, and adipic acid, each containing 6 carbon atoms. Nylon filament will contain additives to optimize properties and increase the ease of printing.
Nylon 6
Nylon 6 is often used for textiles, gears, furniture, and firearm components. Nylon 6 is cheaper to produce, more optically vibrant, experiences less shrinkage, has a higher impact resistance, and is more readily recyclable.

However, nylon 6 absorbs moisture at a higher rate, has less temperature resistance, is vulnerable to acids, and has less tensile strength and modulus than nylon 66. Nylon 6 is formed using the monomer caprolactam, which contains 6 carbon atoms.
taulman3D - Nylon 6
$45 per kg

Printing Temps: 230-235°C
HDT: n/a
Tensile Modulus: 73 MPa
Tensile Strength: 34 MPa
Fracture Elongation: 417%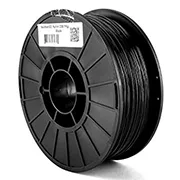 MatterHackers
Amazon
Nylon 66
Nylon 66 is often used for screws, bolts, nuts, bearings, and component housings. It is resistant to acids, has a high temperature resistance, absorbs moisture at a lower rate, and has higher modulus & strength values.

Nylon 66 is formed using the monomers hexamethylene diamine and adipic acid, both of which contain 6 carbon atoms.
Nylon 12
Nylon 12 is often used for packaging films, powder coating metals, insulation material, chemical resistance tubing, and agents in cosmetics. Nylon 12 absorbs the least moisture of all polyamides, has a low density & temperature resistance, and has a lower tensile strength.

Nylon 12 is formed using the monomer laurolactam, which contains 12 carbon atoms.
Fiberlogy - Nylon 12
$66 per kg

Printing Temps: 255-270°C
HDT: 135°C
Tensile Modulus: 1400 MPa
Tensile Strength: 51 MPa
Fracture Elongation: 200%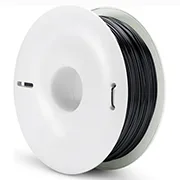 Fiberlogy
Carbon Fiber Nylon
Carbon fiber nylon is ideal for stiff lightweight parts and dimensions stability. Both carbon and glass fiber nylon have high strength, modulus (rigidity), and temperature resistance.

The rigidity and strength of carbon fiber nylon is typically higher than that of glass fiber nylon.
Glass Fiber Nylon
Glass fiber-filled nylon is cheaper than and maintains more ductility than carbon fiber nylon. Both carbon and glass fiber nylon have high strength, modulus (rigidity), and temperature resistance.

The HDT of glass fiber nylon is higher than that of carbon fiber nylon.
Specialty Nylon Filament
Nylon filament in this category are unspecified by the manufacturer, copolymer/additive combinations, or exotic fills such as Kevlar.
Using SLS to Print Nylon
Selective laser sintering (SLS) 3D printers can be used to create high-quality parts from nylon - these may be prototypes or for commercial-use. Like in SLA, the laser in SLS traces the geometry layer by layer, but SLS printers are unique in that they use the laser to melt nylon powder and do not require any support material.

For the Formlabs printers, you can use referral code "FORM3-TOLIZB" to get $500 off on a printer purchase - here's how to redeem it.
Formlabs Fuse 1
$18,500+
($500 Off - FORM3-TOLIZB)
Z Layer Thickness: 0.11mm
Laser Spot Size: 0.2mm
Print Volume: 165mm (L) 165mm (W) 300mm (H)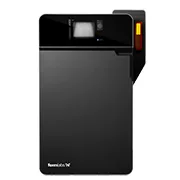 Formlabs
Ultimate Resin Guide - compare resin printers, resin material, and equipment

Preparing for Resin Printing - setting up an enclosure, heating, ventilation, filtration, and cleaning equipment

FDM Printers Guide - comparison table and top picks for filament printers

Resin Properties or Filament Properties - comparison table and top picks for materials
Disclaimer: You assume all responsibility and risk for the use of, but not limited to, the resources, advice, and opinions of 4D Filtration or its employees. 4D Filtration or its employees do not assume any liability or create any warranty for the use of any information. 4D Filtration may receive commissions for referral links. Prices are approximated for simplicity and they may fluctuate due to sales or markdowns. Amazon .com should refer you to your local amazon site if you are not in the United States; there is a chance Amazon's link redirect system will take you to a different product.