The best resin printer for you will be based on your budget, size, resolution, and application requirements.

For most people, a small resin printer costing around $200 is adequate. However, if you need a resin printer with a larger build volume, you will need one of the more expensive medium or large MSLA (masked stereolithography) printers.

Consumer resin printers typically have a Z-resolution of 0.01 mm and varying XY-resolutions. Most affordable resin printers on the market now have a monochrome screen and an XY-resolution of approximately 0.035 mm to 0.05 mm.

However, some resin printers with XY-resolutions as low as 0.022 mm are available at a premium. These high-precision printers are suitable for those who require tight tolerances, produce commercial items, cast jewelry, or have extra money to spend.

To determine the size of printer you need, we recommend downloading one of the free slicers and throwing in some STLs to compare build volumes.
Small Resin Printers
The Anycubic Photon series and Elegoo Mars series are nearly identical in components and specifications, but there are still a few differences between them.

The Photon Mono 4K and M3 use a pre-assembled FEP sheet. This means that you will need to purchase FEP replacements straight from Anycubic's site or Amazon. The advantage to this is not having to tighten or tune the FEP, and the disadvantage is that you can not use a universal FEP or PFA film sheet.

On the other hand, Elegoo's Mars 3 can use any PFA or FEP sheet with their vat. Also, Elegoo has slightly cheaper screen replacements than Anycubic or Phrozen.

If you are torn between the two, just go for the cheapest one, and if possible purchase it through Amazon or AliExpress to get faster shipping and an additional layer of buyer protection.

Phrozen resin printers are more expensive, but the community as a whole views their printers as having slightly more quality and the customer support as more responsive. Anycubic and Elegoo have plenty of mixed reviews in terms of customer support. The only way to avoid bad customer service entirely is to exit the budget printer realm.
Medium Resin Printers
The medium resin printers have nearly identical components and features to their smaller brethren. The increase in size is aligned with the higher initial cost for the printer and the replacement screen cost.

The Elegoo Saturn series slightly edges out the Anycubic Mono X series and Phrozen's Mighty 4K/8K with their lower screen replacement cost. The main advantage to the Anycubic printers is that you can adjust the UV power level on the printer.

If you are torn between the three, just go for the cheapest one that is available, and if possible purchase it through Amazon or AliExpress to get faster shipping and an additional layer of buyer protection. The price can vary quite a bit so make sure to compare sites.
Large Resin Printers
If you're in the market for a large resin printer that offers the best value for your money, the Anycubic M3 Max is the top choice.

While the Phrozen Mega 8K is the largest MSLA printer currently available for consumers, its price tag may come as a surprise.

Alternatively, the Elegoo Jupiter is an option to consider, but its XY-resolution is inferior to that of the M3 Max.
Anycubic M3 Max
$950+

Resolution: 0.043mm (XY) 0.01mm (Z)

13" 7k Screen ($220)
Print Volume: 298mm (L) 164mm (W) 300mm (H)

Photon M3 Series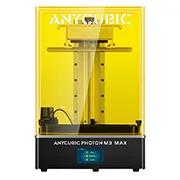 Anycubic
Amazon
AliExpress
Elegoo Jupiter
$990+

Resolution: 0.051mm (XY) 0.01mm (Z)

12.8" 6k Screen ($210)
Print Volume: 278mm (L) 156mm (W) 300mm (H)

M3 Max vs Jupiter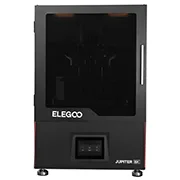 Elegoo
Amazon
MatterHackers
Phrozen Mega 8K
$2,200+

Resolution: 0.043mm (XY) 0.01mm (Z)

15" 8k Screen ($390)
Print Volume: 330mm (L) 185mm (W) 400mm (H)

Jupiter vs Mega 8K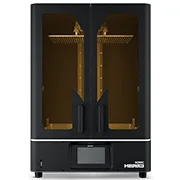 Phrozen
Amazon
MatterHackers
Ultimate Resin Guide - compare resin printers, resin material, and equipment

Preparing for Resin Printing - setting up an enclosure, heating, ventilation, filtration, and cleaning equipment

FDM Printers Guide - comparison table and top picks for filament printers

Resin Properties or Filament Properties - comparison table and top picks for materials
Disclaimer: You assume all responsibility and risk for the use of, but not limited to, the resources, advice, and opinions of 4D Filtration or its employees. 4D Filtration or its employees do not assume any liability or create any warranty for the use of any information. 4D Filtration may receive commissions for referral links. Prices are approximated for simplicity and they may fluctuate due to sales or markdowns. Amazon .com should refer you to your local amazon site if you are not in the United States; there is a chance Amazon's link redirect system will take you to a different product.