The Elegoo Mars 3 is the successor of the Mars 2 and the direct competitor to the Mono 4K, Mini 4K, and Mini 8K.

The Mars 2 is an older generation, but it makes for a good budget printer. The newer Mars 3 has slightly more XY-resolution and build volume.

We recommend the Mars 3 for most users and the Mars 2 if you are on a budget.
Elegoo Mars 2
$120
(phasing out)
Resolution: 0.05mm (XY) 0.01mm (Z)

6.1" 2k Screen ($50)
Print Volume: 129mm (L) 80mm (W) 150mm (H)

Mars 2 vs Mars 2 Pro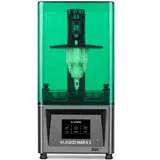 Elegoo
Amazon
AliExpress
Elegoo Mars 3
$210

Resolution: 0.035mm (XY) 0.01mm (Z)

6.6" 4k Screen ($50)
Print Volume: 143mm (L) 89mm (W) 175mm (H)

Mars 3 vs Mars 2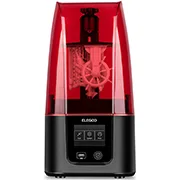 Elegoo
Amazon
MatterHackers
Elegoo Mars 3 and Mars 2
Both printers have monochrome screens which bring energy, cure time, and lifetime improvements over older color LCDs.
Elegoo often has cheaper replacement parts compared to the other major brands, such as Anycubic and Phrozen.
Both printers run Chitu boards and are locked into their software, but thankfully third parties, such as Lychee, have started adding all of the Chitu board printers. To avoid Chitu boards you would have to pick up an Anycubic resin printer or Prusa SL1S.
Elegoo has a fairly reliable track record in terms of customer service, but it is difficult to escape the potential for spotty service until you exit the budget realm (Formlabs, Prusa etc). Thus, if you can order the printer on amazon, you will have the amazon delivery speed plus the return policy in the event something goes wrong.
Elegoo Mars 3
The Mars 3 sports a small increase in build dimensions over the Mars 2 - 129x80x150 mm to 143x89x175 mm.
The Mars 3 does receive an increase in XY resolution from 0.05mm to 0.035mm. Visually, there is little difference (youtube video example), but the dot pitch should provide increased dimensional accuracy over the Mars 2. This can be valuable for applications such as jewelry but do keep in mind that factors such as resin shrinkage and settings can be just as important.

The Mars 3 comes with a free year of Chitubox Pro.

The vat on the Mars 3 is aluminum by default.

Elegoo Mars 2
The Mars 2 comes with a plastic vat by default, but this doesn't affect print quality. If you desire aluminum instead, pick up a Sovol vat.
Why not the Mars 2 Pro? The Pro version does come with slightly extra build height, and this should be its only selling point. The plastic vat on the regular Mars 2 works perfect fine and Sovol has cheap aluminum vats anyway. The 'air filter' on the Mars 2 Pro is 13.6 gram brick of compressed carbon that requires taking the entire printer apart to replace it (elegoo's video). Instead, you can download the print files for our P Mini air cleaner for free.
Ultimate Resin Guide - compare resin printers, resin material, and equipment

Preparing for Resin Printing - setting up an enclosure, heating, ventilation, filtration, and cleaning equipment

FDM Printers Guide - comparison table and top picks for filament printers

Resin Properties or Filament Properties - comparison table and top picks for materials
Disclaimer: You assume all responsibility and risk for the use of, but not limited to, the resources, advice, and opinions of 4D Filtration or its employees. 4D Filtration or its employees do not assume any liability or create any warranty for the use of any information. 4D Filtration may receive commissions for referral links. Prices are approximated for simplicity and they may fluctuate due to sales or markdowns. Amazon .com should refer you to your local amazon site if you are not in the United States; there is a chance Amazon's link redirect system will take you to a different product.