The new Phrozen Mini 8K sports a few improvements for a consumer resin printer and the pre-order starts on October 20, 2021. The printer starts at $350 during the pre-order and will bump up towards $600 for retail. It brings one of the best XY resolutions to date, dual linear rails, a small bump in build volume, and a laser-etched build plate.
For $50 off your Mini 8K pre-order use the code MINI8K50.

When you use the code 4D152021 on the US Amazon you can get 15% off Phrozen printers, resin, and accessories. This knocks printers like the Mighty 4K down to ≈$510 and ABS-Like resin to $28 a kg bottle.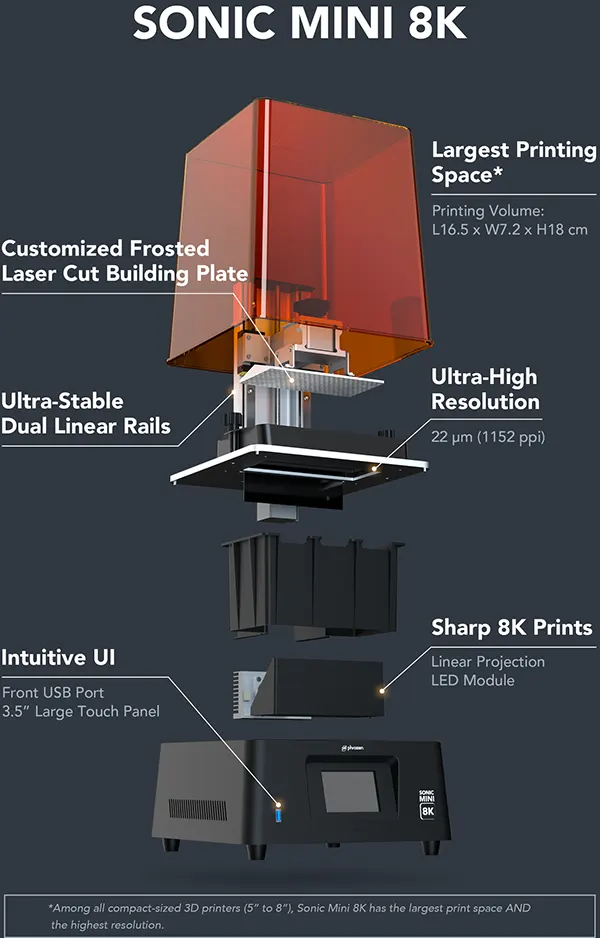 What's New
The Mini 8K's enhanced XY resolution of 0.022mm will be perfect for miniatures that are not going to be painted, jewelry, and precision parts.
The Mini 8K will use dual linear rails, providing reinforcement against wobble.
The build plate will be etched similar to Anycubic's Ultra DLP printer - this is intended to allow resin to more effectively bond onto the plate.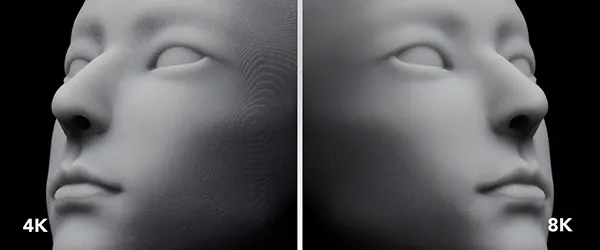 Specifications
7.1" Monochrome LCD (7500 x 3240 px)
Metal Vat
XY Resolution: 0.022mm
Build Volume: 165 x 72 x 180mm
Layer Thickness: 0.01-0.30mm
Printer Size: 290 x 290 x 420mm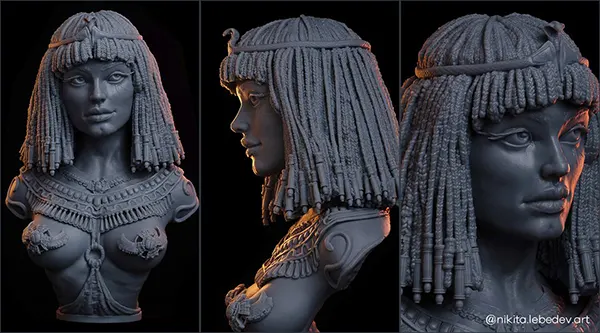 Pros
One of the better XY resolutions on the market, even competing with professional resin printers.
Print quality and reliability increase from the dual linear rails.
Larger build volume than DLP printers.
Cons
The Mini 8K will be locked into Chitubox until there is any solution on that front.
The retail price will be ≈$600, which is high for its size, but that is okay since the Mini 8K is a stepping stone between entry-level and prosumer.
Final Thoughts
The Mini 8K will be perfect for entities printing jewelry, dental, general molds, models that are not going to be painted, or precision parts.
The Mini 8K would not be recommended for individuals that plan on painting miniatures - the detail you gain will be lost as you layer paint.
The fact that the Mini 8K will be locked to Chitubox is a serious downside and I sincerely hope that the issue is resolved so that everyone can freely choose what slicing software they wish to use.
Phrozen Mini 8K
$500-700

Resolution: 0.022mm (XY) 0.01mm (Z)

7.1" 8K Screen ($130)
Print Volume: 165mm (L) 72mm (W) 180mm (H)

Mini 8K Highlights
Phrozen
Amazon
MatterHackers
Photo Credits: Phrozen Technology
To compare resin printers, browse resin, and get equipment inspiration visit our Ultimate Resin Guide.

To compare FDM printers via an interactive table, side-by-sides, and in-depth articles.

Application & Safety FAQ answers common questions about resin.

Ventilation Simulations has animations for common DIY venting setups, and Heating Resin Printers during winter provides data for specific heat sources.

Our Resin Print Settings Table has associated images, mixes, and does a resin giveaway.

To browse resin properties and find your ideal strong, durable, flexible, or high-temp resin visit our Resin Properties Table. To find properties of filaments, visit our FDM Properties Table.
Disclaimer: You assume all responsibility and risk for the use of, but not limited to, the resources, advice, and opinions of 4D Filtration or its employees. 4D Filtration or its employees do not assume any liability or create any warranty for the use of any information. 4D Filtration may receive commissions for referral links. Prices are approximated for simplicity and they may fluctuate due to sales or markdowns. Amazon .com should refer you to your local amazon site if you are not in the United States; there is a chance Amazon's link redirect system will take you to a different product.