Medium resin printers are ideal for those that need that bit of extra printing volume. These printers function exactly the same as the smaller ones and they have a similar level of reliability.

The three prominent medium resin printer series are the Elegoo Saturn, Anycubic Photon Mono X, and the Phrozen Mighty. The original Elegoo Saturn and Anycubic Mono X provide good value for those getting into resin printing. The extra resolution of the next generation printers are certainly nice but not absolutely necessary, especially if you are on a budget and/or are painting your prints.

The original Anycubic Mono X, the Elegoo Saturn, and Saturn S provide the best bang for buck out of the medium-sized resin printers. The downside is that they have less XY resolution and build volume than the more expensive medium resin printers or large resin printers.
Elegoo Saturn
$300

Resolution: 0.05mm (XY) 0.01mm (Z)

8.9" 4k Screen ($80-120)
Print Volume: 192mm (L) 120mm (W) 200mm (H)

Saturn vs Mono X
Elegoo
Elegoo Saturn S
$350

Resolution: 0.048mm (XY) 0.01mm (Z)

9.1" 4k Screen
Print Volume: 196mm (L) 122mm (W) 210mm (H)

Saturn S vs Saturn
Elegoo
Amazon
MatterHackers
Elegoo Saturn 2
$550

Resolution: 0.028mm (XY) 0.01mm (Z)

10" 8k Screen
Print Volume: 219mm (L) 123mm (W) 250mm (H)

Saturn S vs Saturn 2
Elegoo
Amazon
AliExpress
Anycubic Mono X
$300

Resolution: 0.05mm (XY) 0.01mm (Z)

8.9" 4k Screen ($110-150)
Print Volume: 192mm (L) 120mm (W) 245mm (H)

Saturn vs Mono X
Anycubic
Anycubic Mono X 6K
$460

Resolution: 0.034mm (XY) 0.01mm (Z)

9.25" 6K Screen ($145)
Print Volume: 197mm (L) 122mm (W) 245mm (H)

Mono X 6K Highlights
Anycubic
Amazon
AliExpress
Anycubic M3 Plus
$430

Resolution: 0.034mm (XY) 0.01mm (Z)

9.25" 6K Screen ($145)
Print Volume: 197mm (L) 122mm (W) 245mm (H)

Photon M3 Series
Anycubic
AliExpress
Saturn (4K) and Mono X (4K)
The Photon Mono X and Elegoo Saturn have the same XY resolution, 0.05mm. The more expensive variants have a higher resolution.
Both printers have aluminum vats by default.
Antialiasing works on both printers and can be verified through UVTools.
The companies have a comparable level of customer service, and it is difficult to escape spotty service until you exit the budget realm (Formlabs, Prusa etc). Thus, if you can order the printer on amazon, you will have the amazon delivery speed plus the return policy in the event something goes wrong.
Anycubic Mono X (4K)
The Photon Mono X sports an extra 45mm in build height over the Saturn. The Saturn 2 has a height similar to the Mono X.

You can adjust the UV power on the printer itself; the default is 80% but may arrive at 55-100%.
The light intensity of the Mono X is 1.78 mW/cm2 at only 50% UV power.
Newer printers should be shipping with a screen protector, and it typically will not be installed by default.
The Mono X can print Anycubic's RERF file, which prints 8 exposure times in one go. They are labeled 1 through 8 and step up in increments of 0.4 seconds from 0.8 to 3.6 seconds.
There have been a couple incidents of slightly warped build plates being shipped with new printers (≈0.5mm gaps), but these reports have largely stopped. Anycubic is shipping out replacement build plates upon request; although, they may take a hot minute to ship across seas. The plate can also be sanded down.
Photo credits: Anycubic
Elegoo Saturn (4K)
Elegoo often has cheaper replacement parts compared to Anycubic.
The Saturn's LCD screen has a pre-installed tempered glass protector - the original Mono X only has the polarizer film.
The light intensity of the Saturn is 2.07 mW/cm2.
Elegoo runs Chitu boards, so firmware updates can lock you out of using slicers other than Chitubox. This has been partially resolved since Lychee has reached an agreement with Chitu, and the Chitu board printers have been added.
Photo credits: Elegoo
Final Thoughts
As you can tell, there are not too many differences between these printers since they largely consist of the same components under the hood. Your purchase decision will rely on the small feature differences, build volume, resolution, and price.

If we needed to purchase more medium resin printers, the Mono X would be our choice due to the flexibility the adjustable UV power level provides and the additional build height. Running the UV level near 50% should increase the screen life - ours has ~900 hours and is still running strong.
Resin Printer Setup Example
Beyond the printer, you will need to budget for resin and additional supplies. Ideally, the printer will be outside the residence (ie: garage/shed/balcony) but it can be indoors in a separate room if vented out a window. A grow tent is an affordable enclosure that can both assist in venting the printer and helping to keep the resin warm during winter. Small heaters and a temperature controller can be used to keep the resin at its recommended level.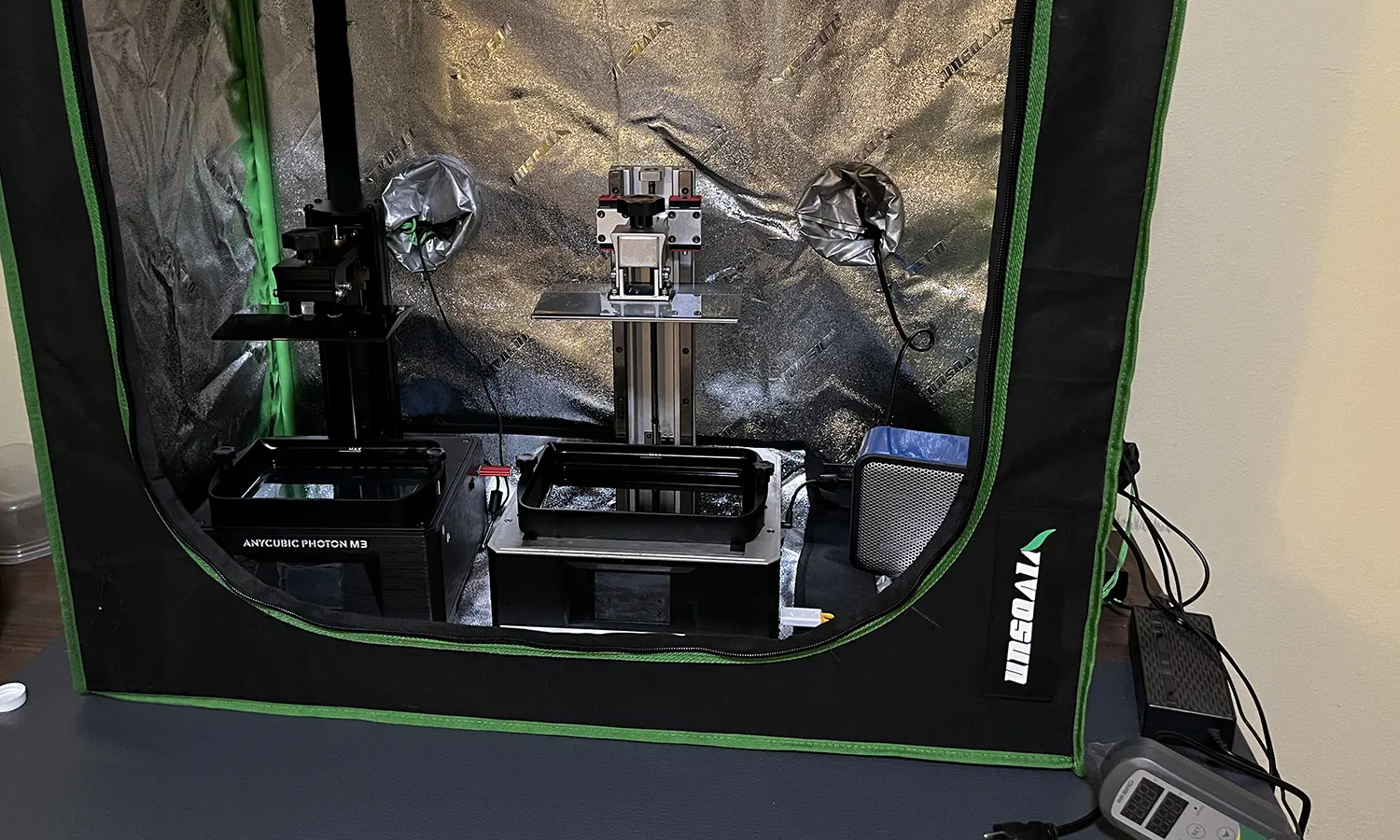 Photo credits: 4D Filtration
Ultimate Resin Guide - compare resin printers, resin material, and equipment

Preparing for Resin Printing - setting up an enclosure, heating, ventilation, filtration, and cleaning equipment

FDM Printers Guide - comparison table and top picks for filament printers

Resin Properties or Filament Properties - comparison table and top picks for materials
Disclaimer: You assume all responsibility and risk for the use of, but not limited to, the resources, advice, and opinions of 4D Filtration or its employees. 4D Filtration or its employees do not assume any liability or create any warranty for the use of any information. 4D Filtration may receive commissions for referral links. Prices are approximated for simplicity and they may fluctuate due to sales or markdowns. Amazon .com should refer you to your local amazon site if you are not in the United States; there is a chance Amazon's link redirect system will take you to a different product.