The new Anycubic Mono SQ can be best described as the Mono X's baby brother. The Mono SQ is slightly larger than the Photon Mono, but it retains the features found in the Mono X. For $400 the Photon Mono SQ sports a 128 x 120 x 200mm build volume and an adjustable UV power level. To compare the SQ with the Mono and Mono X.
What's New
The Photon Mono SQ is the first prominent small resin printer to feature an adjustable UV power level - the Mono X has this feature but is a medium printer.
The Mono SQ has the widest build area for a smaller resin printer, so wide that it is nearly a square (128x120mm).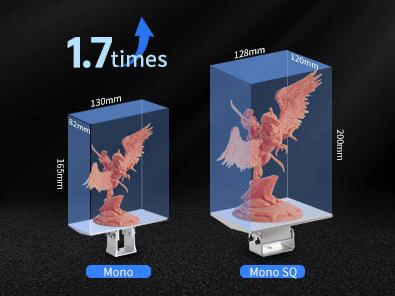 Specifications
6.9" Monochrome LCD (2560 x 2400 px)
Metal Vat
XY Resolution: 0.05mm
Build Volume: 128 x 120 x 200mm
Layer Thickness: 0.01-0.15mm
Printer Size: 270 x 220 x 445mm
Power Consumption: 66 W
Pros
One of the largest build volumes for a smaller resin printer.
Wide build area.
Adjustable UV power.
Less power consumption than the Mono X.
Cons
The Mono SQ may be locked into Chitubox, we are awaiting confirmation.
The retail price is ≈$400, which is high considering that the larger Mono X is ≈$550. However, it does create another ladder rung to save money if you do not need the extra build volume of a medium printer.
Final Thoughts
The Mono SQ will be perfect for anyone who wants a larger build volume and wants to save some money by not purchasing a $500+ medium resin printer.
For anyone just getting into resin 3D printing, we recommend going for the Photon Mono or Mars 2 in order to save money and determine if MSLA is right for you. If you need a larger bed and have the money, just go for a medium printer.
To compare resin printers, browse resin, and get equipment inspiration visit our Ultimate Resin Guide.

To compare FDM printers via an interactive table, side-by-sides, and in-depth articles.

Application & Safety FAQ answers common questions about resin.

Ventilation Simulations has animations for common DIY venting setups, and Heating Resin Printers during winter provides data for specific heat sources.

Our Resin Print Settings Table has associated images, mixes, and does a resin giveaway.

To browse resin properties and find your ideal strong, durable, flexible, or high-temp resin visit our Resin Properties Table. To find properties of filaments, visit our FDM Properties Table.
Disclaimer: You assume all responsibility and risk for the use of, but not limited to, the resources, advice, and opinions of 4D Filtration or its employees. 4D Filtration or its employees do not assume any liability or create any warranty for the use of any information. 4D Filtration may receive commissions for referral links. Prices are approximated for simplicity and they may fluctuate due to sales or markdowns. Amazon .com should refer you to your local amazon site if you are not in the United States; there is a chance Amazon's link redirect system will take you to a different product.