The Photon Mono and Mars 2 are being phased out in favor of newer models.

If you can find some in stock, they make for a good budget resin printer.

Most users should check out some of the newer small resin printers that are ~$200 and have a higher XY-resolution.
Anycubic Mono
$190
(phasing out)
Resolution: 0.051mm (XY) 0.01mm (Z)

6" 2k Screen ($40-70)
Print Volume: 130mm (L) 80mm (W) 165mm (H)

Photon Mono vs Mars 2

Anycubic
Elegoo Mars 2
$120
(phasing out)
Resolution: 0.05mm (XY) 0.01mm (Z)

6.1" 2k Screen ($50)
Print Volume: 129mm (L) 80mm (W) 150mm (H)

Mars 2 vs Mars 2 Pro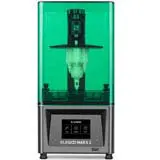 Elegoo
Amazon
AliExpress
Photon Mono and Mars 2
The Photon Mono and Mars 2 essentially have the same XY resolution, 0.051mm and 0.05mm respectively.
Both printers have plastic vats by default, but this doesn't affect print quality. If you desire aluminum instead, pick up a Sovol vat.
The companies have a comparable level of customer service, and it is difficult to escape spotty service until you exit the budget realm (Formlabs, Prusa etc). Thus, if you can order the printer on amazon, you will have the amazon delivery speed plus the return policy in the event something goes wrong.
Anycubic Photon Mono
The Photon Mono sports an extra 15mm in build height over the Mars 2.

The main potential downside on the Photon Mono is that it uses a pre-assembled FEP; this can either be super convenient or annoying if you want to use your own FEP. You can solve this by purchasing a Sovol vat after your FEP sheet needs to be replaced, which can take a while anyway.

Elegoo Mars 2
Elegoo often has cheaper replacement parts compared to Anycubic.
Why not the Mars 2 Pro? The Pro version does come with slightly extra build height, and this should be its only selling point. The plastic vat on the regular Mars 2 works perfect fine and Sovol has cheap aluminum vats anyway. The 'air filter' on the Mars 2 Pro is 13.6 gram brick of compressed carbon that requires taking the entire printer apart to replace it (elegoo's video). Instead, you can download the print files for our P Mini air cleaner for free.
Final Thoughts
As you can tell, there are not too many differences between these printers since they largely consist of the same components under the hood. Your purchase decision will rely on the small feature differences, preference of company, and the purchase price in your location.
Ultimate Resin Guide - compare resin printers, resin material, and equipment

Preparing for Resin Printing - setting up an enclosure, heating, ventilation, filtration, and cleaning equipment

FDM Printers Guide - comparison table and top picks for filament printers

Resin Properties or Filament Properties - comparison table and top picks for materials
Disclaimer: You assume all responsibility and risk for the use of, but not limited to, the resources, advice, and opinions of 4D Filtration or its employees. 4D Filtration or its employees do not assume any liability or create any warranty for the use of any information. 4D Filtration may receive commissions for referral links. Prices are approximated for simplicity and they may fluctuate due to sales or markdowns. Amazon .com should refer you to your local amazon site if you are not in the United States; there is a chance Amazon's link redirect system will take you to a different product.