Medium resin printers are ideal for those that need that bit of extra printing volume. The printers function exactly the same as the smaller ones and they have a similar level of reliability. The Elegoo Saturn is a reliable pick for a medium resin printer and so is the Saturn S, the new variant.

Since the 'upgrades' of the Saturn S are minor, the screens will take time to stock, and the price is ~$60 higher, we would recommend sticking with the regular Elegoo Saturn. If you want a printer with more volume, check out the Photon M3 Series or the Saturn 2. If you want some extra XY-resolution and are on a budget, go for one of the smaller resin printers.
Elegoo Saturn
$350+

Resolution: 0.05mm (XY) 0.01mm (Z)

8.9" 4k Screen ($80-120)
Print Volume: 192mm (L) 120mm (W) 200mm (H)

Saturn vs Mono X
Elegoo
Amazon
AliExpress
Elegoo Saturn S
$420+

Resolution: 0.048mm (XY) 0.01mm (Z)

9.1" 4k Screen
Print Volume: 196mm (L) 122mm (W) 210mm (H)

Saturn S vs Saturn
Elegoo
Amazon
MatterHackers
Saturn S and Saturn
Both printers have aluminum vats by default.
Antialiasing works on both printers and can be verified through UVTools.
The Saturn S and Saturn can be used with the Chitubox or Lychee slicers.
Both Saturns' LCD screens have a pre-installed tempered glass protector.
Saturn S
The Saturn S gains a ≈3.8% increase in the printing area - 192x120 to 196x122mm.

There is an extra 10mm in build height over the regular Saturn.

The Saturn S has a slight bump in XY resolution, 0.002mm - 0.05mm to 0.048mm.
The Saturn S replacement screens are not publicly available yet, so if you need one you will have to contact Elegoo.
Photo credits: Elegoo
Specifications
Release Year: 2022
Release Price: $450-500
Assembly: Fully
Build Volume: 196 x 122 x 210 mm
XY Resolution: 0.048 mm
Screen: 9.1" 4K (4098 x 2560)
LED Intensity: ~2.07 mW/cm2
Compatible Slicers: Lychee, Chitubox, PrusaSlicer (UVtools)
Power Requirement: 96 W
Dimensions: 280 x 240 x 446 mm
Weight: 24 lbs (11 kg)
Elegoo Saturn
The regular Saturn does not come with Elegoo's "air purifier", which is just a small brick of compressed carbon. This unit is inconsequential since carbon tends to only filter ~40-60% of VOCs (in a 1"+ thick layer). For a primary defense, resin printers should always be placed outside the residence or vented out a window.
The Elegoo Saturn comes with "FEP1.0" while the Saturn S comes with "FEP2.0". This, along with 'nFEP', is primarily just marketing. Very little difference exists between FEP and PFA - they can be obtained from the manufacturer, supply websites online, amazon, or from distributers like McMaster. The FEP from McMaster is actually US-sourced PFA & is a solid choice.
The light intensity of the Saturn is 2.07 mW/cm2 at the surface of the LCD screen.
Photo credits: Elegoo
Specifications
Release Year: 2020
Release Price: ~$500
Assembly: Fully
Build Volume: 192 x 120 x 200 mm
XY Resolution: 0.05 mm
Screen: 8.9" 4K (3840x 2400)
LED Intensity: 2.07 mW/cm2
Compatible Slicers: Lychee, Chitubox, PrusaSlicer (UVtools)
Power Requirement: 96 W
Dimensions: 280 x 240 x 446 mm
Weight: 22 lbs (10 kg)
Final Thoughts
As you can tell, the Saturn S and Saturn are essentially the same printer. Currently, it is hard to justify the added cost of the Saturn S with the minor upgrades. Eventually, the regular Saturn's production may cease to exist or substantially slow, causing the price of the Saturn S to be lower. Until such a time, we will continue recommending the regular Saturn.

Resin Printer Setup Example
Beyond the printer, you will need to budget for resin and additional supplies. Ideally, the printer will be outside the residence (ie: garage/shed/balcony) but it can be indoors in a separate room if vented out a window. A grow tent is an affordable enclosure that can both assist in venting the printer and helping to keep the resin warm during winter. Small heaters and a temperature controller can be used to keep the resin at its recommended level.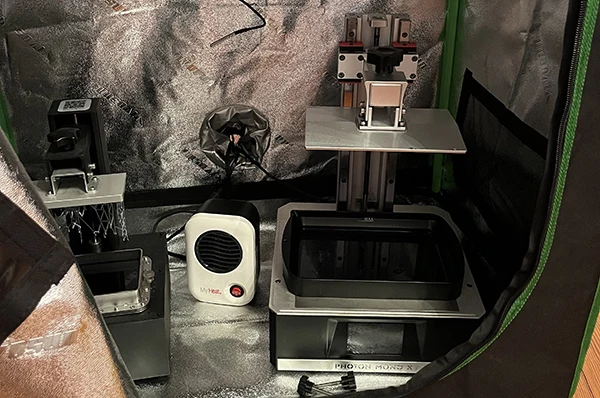 Photo credits: 4D Filtration
To compare resin printers, browse resin, and get equipment inspiration visit our Ultimate Resin Guide.

To compare FDM printers via an interactive table, side-by-sides, and in-depth articles.

Application & Safety FAQ answers common questions about resin.

Ventilation Simulations has animations for common DIY venting setups, and Heating Resin Printers during winter provides data for specific heat sources.

Our Resin Print Settings Table has associated images, mixes, and does a resin giveaway.

To browse resin properties and find your ideal strong, durable, flexible, or high-temp resin visit our Resin Properties Table. To find properties of filaments, visit our FDM Properties Table.
Disclaimer: You assume all responsibility and risk for the use of, but not limited to, the resources, advice, and opinions of 4D Filtration or its employees. 4D Filtration or its employees do not assume any liability or create any warranty for the use of any information. 4D Filtration may receive commissions for referral links. Prices are approximated for simplicity and they may fluctuate due to sales or markdowns. Amazon .com should refer you to your local amazon site if you are not in the United States; there is a chance Amazon's link redirect system will take you to a different product.