The Prusa XL is now shipping!

The Prusa XL is the new feature-packed CoreXY printer from Prusa. Pre-orders opened for the Prusa XL printer on November 18, 2021, and units have begun shipping on March 13, 2023. This is nearly 9 months past the original estimation.

Pre-orders placed now will ship in Q2 of 2024.

The delay of production for the Prusa XL is largely due to the lack of genuine components, an issue that many manufacturers around the world are experiencing.

The price ranges from $2,000 for the single extruder kit, to $4,000 for the pre-assembled variant with five extruders. There are plenty of details missing for the printer that should be released as the Prusa XL approaches its final configuration - we will update this article as information is made available.

If you have already purchased a single tool head Prusa XL and want to change your order to multiple tool heads, wait until Prusa notifies you.

We should have our Prusa XL within the next month, then we can start on a review.
Prusa XL
$1,999+ ($200 Pre-Order)

Assembly: Partial or Fully
Extruder: Direct Drive
Auto-Leveling: Yes
Max Nozzle Temp: 300°C
Max Bed Temp: 100°C
Print Volume: 360mm (L) 360mm (W) 360mm (H)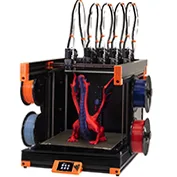 Prusa
Photo credits: (c) Prusa Research - prusa3d.com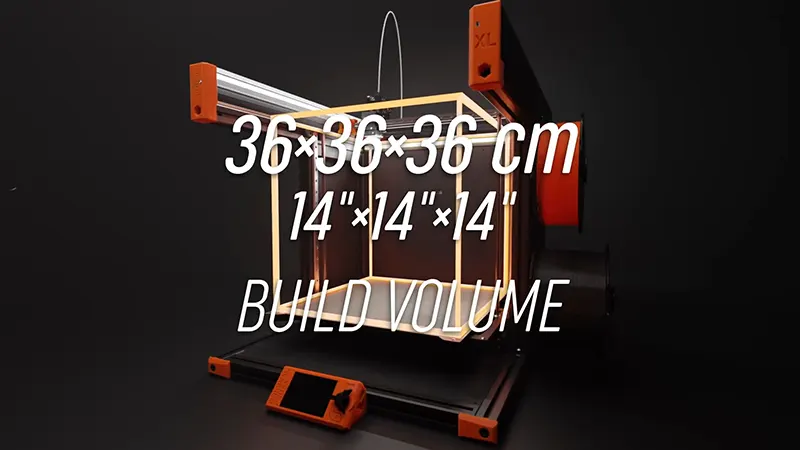 3D Printing Community Thoughts on the Prusa XL
Nearly a quarter of the users surveyed on Reddit have already pre-ordered a Prusa XL for themselves, while another 36% of users may purchase one in the future. The top three factors for delaying a pre-order could be the long wait time, budget constraints, or application requirements.

The price tag is likely the main issue, and this is highlighted by the 39% of users that say the printer is too expensive for them - FDM printers like the Artillery Sidewinder or Sovol SV03 are only $400 and only have a slightly smaller build volume.
Sample Size = 114
What's New
The Prusa XL's most obvious feature is the CoreXY build volume of 360 x 360 x 360 mm.
Prusa introduces segmented heatbed modules reduce warping and power consumption.
The Prusa XL can be equipped with up to 5 independent extruders that automatically swap and calibrate during printing.
First layer calibration is completed with the nozzle itself and an embedded strain gauge in the heatsink. No more manual calibrations or leveling!
The Prusa XL printer can come with a built-in draft shield or enclosure for printing higher-end materials.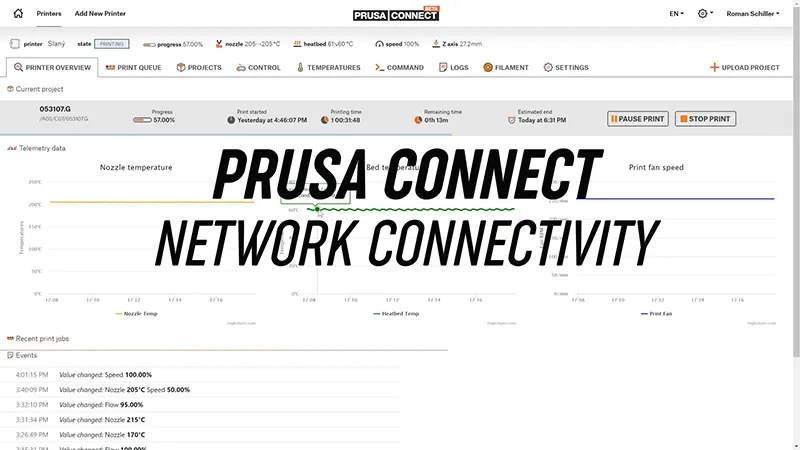 Prusa Connect: Network Connectivity for the Prusa XL
The Prusa XL through its ethernet port will be able to connect to the internet, where you can start prints, make modifications on the go, and monitor metrics.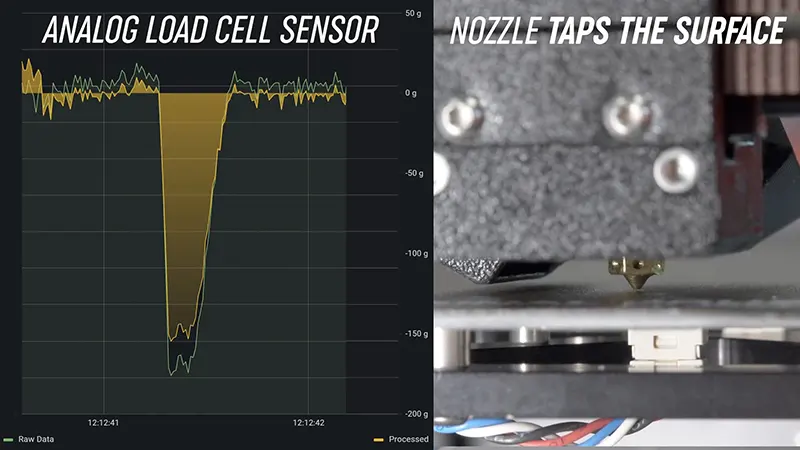 Automated First Layer Calibration and Leveling
The Prusa XL tool heads come equipped with an internal strain gauge that can measure forces acting on the nozzle. This allows the printer to calibrate and level using only the nozzle.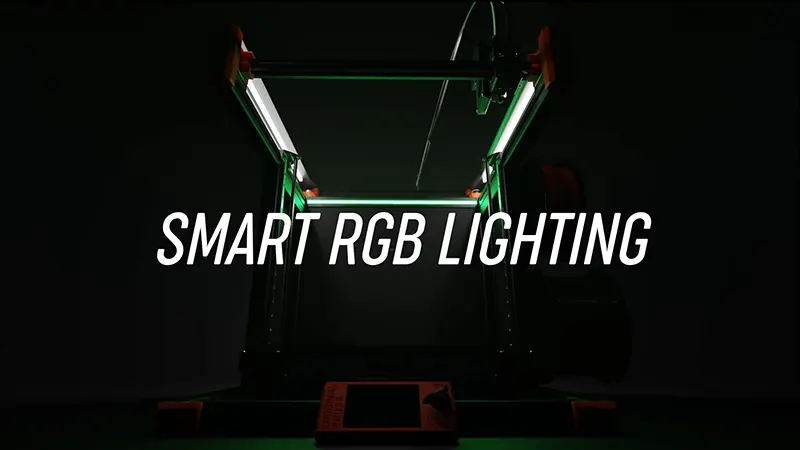 Prusa XL's RGB Lighting
The Prusa XL comes equipped with 'smart' LED lights that you customize to your liking. These will be super useful when interacting with the printer, and they can add some style to your workspace.
Prusa XL Pre-Order
The $200 deposit can be refunded at any point, so long as your printer has not shipped yet. The refund can take up to 14 businesses days via your original payment method, or you can choose to have it converted to a voucher for the Prusa store.
When your printer goes to ship, you will have the opportunity to edit your order. Expect there to be a few additions to choose from such as an enclosure and various accessories.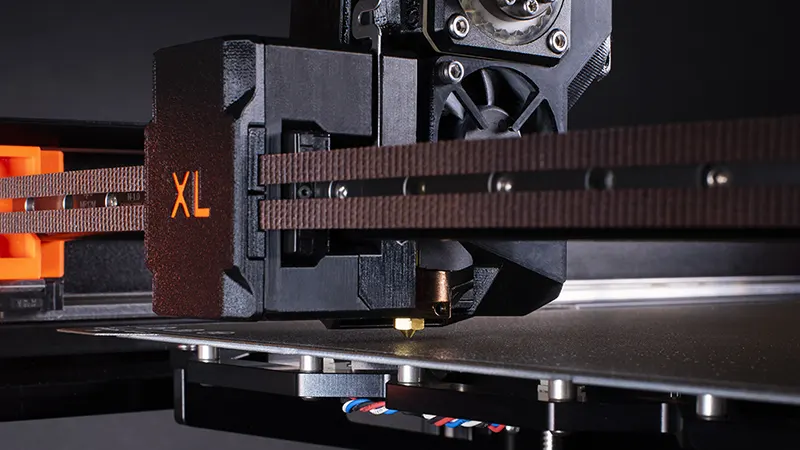 Prusa XL Price
The cheapest variant of the printer is $2,000 for the kit with a single tool head.
Upgrading to handle two tool heads will be $2,500.
The highest kit price is $3,500 with five tool heads.
Upgrading the kit to the pre-assembled version costs an extra $500, regardless of the tool head count.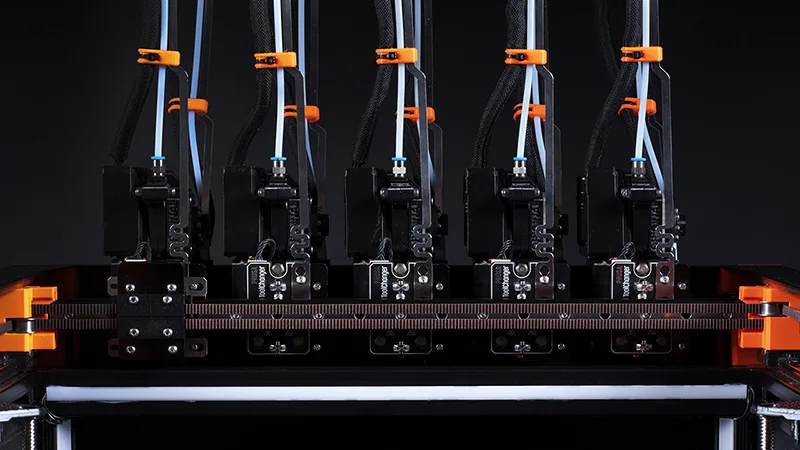 Prusa XL Specifications
Build Volume: 360 x 360 x 360 mm
Max Nozzle Temperature: TBA
Max Bed Temperature: ≈100°C
Print Bed: Magnetic PEI Spring Steel Sheet
Bed Leveling: Mesh Bed Leveling via Nozzle and Strain Gauge
Network Connectivity: Ethernet Port [and surely a SD card slot]
Power Consumption: TBA
Printer Dimensions: 804 x 535 x 660 mm (including spool holders)
Weight: TBA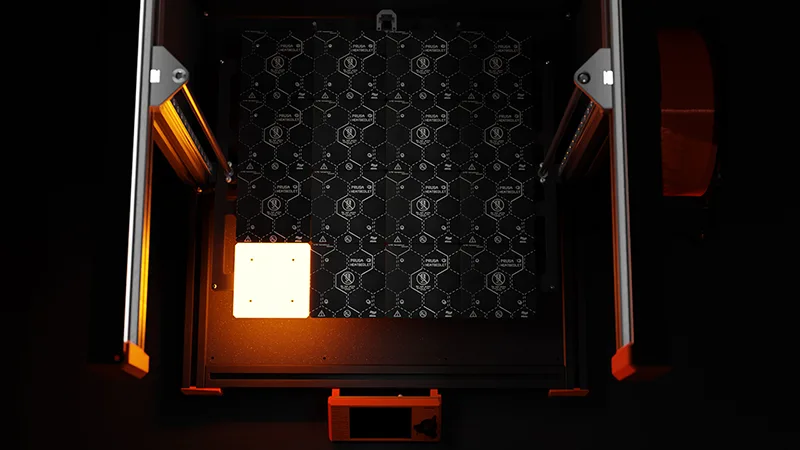 Prusa XL Pros
Wide array of quality of life features that simplify the printing experience even further.
Ability to seamlessly use multiple materials, colors, or nozzle sizes during a single print job.
Prusa XL Cons
The price tag can be a big dissuasion, but this will do little to deter motivated individuals or businesses looking for a reliable large-format printer.
Engineering materials like ASA or PC will still be vulnerable to warping and layers separating if the Prusa XL is without an insulated enclosure or dedicated heat source - this will be especially true if the printer only has the draft shield.
Final Thoughts
The Prusa XL is going to be a very valuable asset to businesses and individuals with splash cash. All of the quality of life features being added will make FDM printing easier and more reliable than ever. Hopefully, these improvements will spread to the MK3S, Mini, and other printers on the market.

While the XL may be a very commanding tool in the toolbox, it is not the best printer to do every job. It will be able to excel at printing larger parts and those requiring multiple materials. Higher-end materials can still be completed with a MK3S, Mini, or heated chamber printer. High-detail, batch printing, complex geometry, casting, high temperature, and even some flexible parts will usually be best left to resin printers.

Ultimate Resin Guide - compare resin printers, resin material, and equipment

Preparing for Resin Printing - setting up an enclosure, heating, ventilation, filtration, and cleaning equipment

FDM Printers Guide - comparison table and top picks for filament printers

Resin Properties or Filament Properties - comparison table and top picks for materials
Disclaimer: You assume all responsibility and risk for the use of, but not limited to, the resources, advice, and opinions of 4D Filtration or its employees. 4D Filtration or its employees do not assume any liability or create any warranty for the use of any information. 4D Filtration may receive commissions for referral links. Prices are approximated for simplicity and they may fluctuate due to sales or markdowns. Amazon .com should refer you to your local amazon site if you are not in the United States; there is a chance Amazon's link redirect system will take you to a different product.