The Prusa XL will provide a hassle-free experience for beginners while being an absolute workhorse for hobbyists and professionals. It introduces a variety of new features but it also carries a hefty price tag of $2,000 to $4,000, depending on the configuration. One cheaper alternative is the Artillery Sidewinder X2, which is the largest of the Artillery FDM printers. The Sidewinder is more affordable than the Prusa XL but has a ≈40% smaller build volume, is limited on filament options, and lacks the amazing new features of the XL. The Prusa XL pre-orders began on November 18, 2021 with a refundable deposit of $200. They are expected to start shipping between April and August of 2022.
Artillery Sidewinder X2
$420 Kit

Extruder: Direct Drive
Auto-Leveling: Yes
Max Nozzle Temp: 230°C (240°C)
Max Bed Temp: 130°C
Print Volume: 300mm (L) 300mm (W) 400mm (H)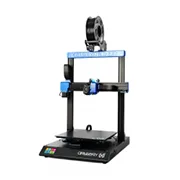 AliExpress
Prusa XL
$1,999+ ($200 Pre-Order)

Extruder: Direct Drive
Auto-Leveling: Yes
Max Nozzle Temp: TBA
Max Bed Temp: TBA
Print Volume: 360mm (L) 360mm (W) 360mm (H)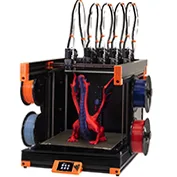 Prusa
Photo credits: (c) Prusa Research - prusa3d.com
Artillery Sidewinder and Prusa XL
The Sidewinder and Prusa XL are among the largest desktop FDM printers that are reliable.
Both printers have a direct drive extruder.
Both printers have a filament runout sensor.
Both printers have a power outage print recovery.
Both printers can be connected locally and networked. The Artillery Sidewinder has a micro-SD and USB A - the Prusa XL will have an ethernet port and probably a slot for a SD card.
Prusa XL
What filaments can the Prusa XL print? The temperature will likely be at or above 300°C, so anything that a MK3S can print including nylons, flexibles, polycarbonate, and carbon fiber blends.
The Prusa XL sports a super-sized build volume of 360x360x360mm.
First layer calibration (auto-leveling) is completed with the nozzle itself and an embedded strain gauge in the heatsink. No more manual calibrations or leveling!
Segmented heatbed modules reduce warping and power consumption.
The Prusa XL can be equipped with up to 5 independent extruders that automatically swap and calibrate during printing.
The Prusa XL can come with a built-in draft shield or enclosure for printing higher-end materials.
The Prusa XL is the printer for you if: you have an expanded budget, need a reliable larger printer, want to use multiple materials, are wanting to use engineering filaments, or are a business or institution desiring to implement a single FDM printer as a workhorse for prototyping etc.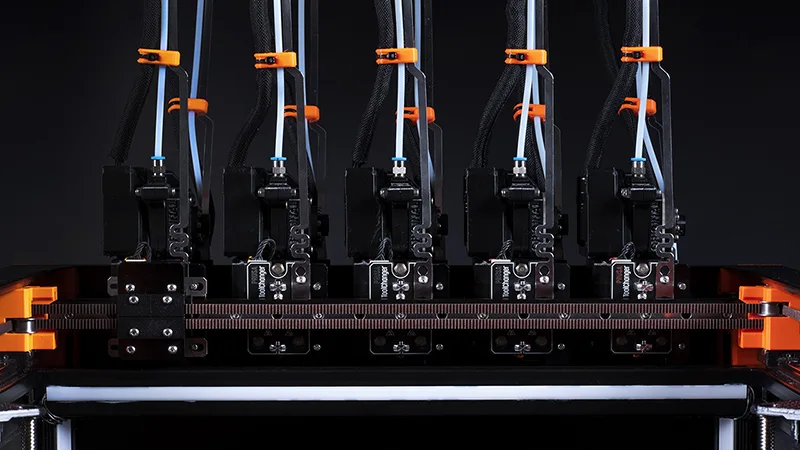 Artillery Sidewinder X2
What filaments can it print at 240°C? PLA, PETG, ABS/ASA (low temps), and flexibles.
The Artillery Sidewinder X2 comes with a build volume of 300x300x400mm, so it has less area but more height.
The Sidewinder uses an mechanical auto-leveling probe, which is less reliable than a Pinda or the XL's use of a strain gauge and the nozzle.
The printer comes with a non-removeable, tempered glass bed attached to an aluminum plate.
There is not an all-metal hotend, which means that the PTFE tube will begin to off-gas above 230°C. It is recommended to replace the heatbreak or hotend if you want to print at higher temperatures.
Avoid buying this printer on Amazon as the majority of the listings are resellers not Artillery. One of the official channels for purchasing is AliExpress.
The Artillery Sidewinder X2 is the printer for you if: you are on a budget and need a larger printer, just want to print PLA/PETG/Flexibles, or are a business that wants to trial implementing FDM into their workflow.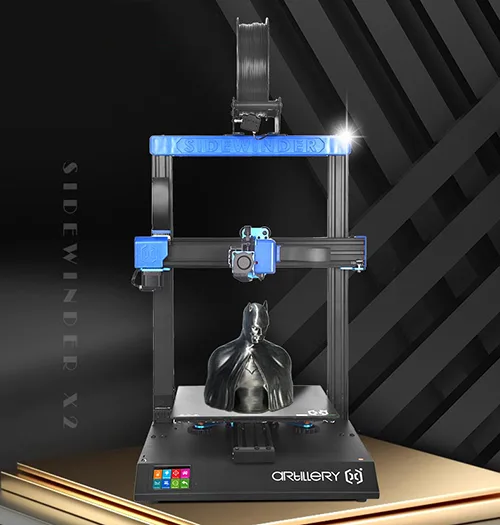 Ultimate Resin Guide - compare resin printers, resin material, and equipment

Preparing for Resin Printing - setting up an enclosure, heating, ventilation, filtration, and cleaning equipment

FDM Printers Guide - comparison table and top picks for filament printers

Resin Properties or Filament Properties - comparison table and top picks for materials
Disclaimer: You assume all responsibility and risk for the use of, but not limited to, the resources, advice, and opinions of 4D Filtration or its employees. 4D Filtration or its employees do not assume any liability or create any warranty for the use of any information. 4D Filtration may receive commissions for referral links. Prices are approximated for simplicity and they may fluctuate due to sales or markdowns. Amazon .com should refer you to your local amazon site if you are not in the United States; there is a chance Amazon's link redirect system will take you to a different product.