The Prusa XL's toolchanger and independent tool heads are some of the main selling points of the new CoreXY printer from Prusa.

As someone who worked with and maintained an i3 MK3 with a MMU2, the toolchanger and tool heads should be a huge improvement in reliability. According to Prusa, they have had "over half a million successful tool changes without a single hitch."

If you pre-ordered a single tool head printer and want to change your order to two or five tool heads, do not complete your order when it is available near March. Prusa's official directive is that they we ship multi-tool head XL's weeks after they start shipping singles, and that you should wait until this later date.
Prusa XL
$1,999+ ($200 Pre-Order)

Extruder: Direct Drive
Auto-Leveling: Yes
Max Nozzle Temp: TBA
Max Bed Temp: TBA
Print Volume: 360mm (L) 360mm (W) 360mm (H)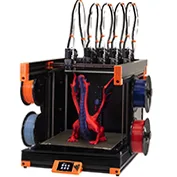 Prusa
Photo credits: (c) Prusa Research - prusa3d.com
3D Printing Community Preference on Tool Heads
In the reddit 3D printing community, 25% of the users polled have already pre-ordered the Prusa Xl. The overwhelming majority of people are opting for the multiple tool head configuration. This showcases just how important the multi-material capability is.
Sample Size = 114
Prusa Xl Toolchanger & Tool Heads
The Prusa XL can be equipped with up to 5 independent extruders that automatically swap and calibrate during printing. Prusa is also considering adding other tools that can be used during printing - we can not even begin to imagine where this could go.

We imagine that most people will use the multi-material capability to use several colors or soluble supports, but you can also mix up the filament types themselves. Imagine printing the bottom section of a part in PLA, a flexible joint in TPU, then the top section back in PLA. The outside perimeters could be printed in ASA to give UV resistance. Surfaces of a part could be printed with an iron-filled magnetic filament for quick-snap applications. The possibilities are endless.

To mix things up even more, Prusa is considering implementing the ability to use multiple nozzle sizes, which can speed up prints while retaining detail in key areas.
What is the price of the Prusa XL Toolchanger and Tool Heads?
The cheapest version of the printer is $2,000 for the kit with a single tool head. This appears to be the least popular option.
Opting for two tool heads will be $2,500.
The highest kit price is $3,500 with five tool heads.
Upgrading the kit to the pre-assembled version costs an extra $500, regardless of the tool head count.
The price of the toolchanger, tool heads, and expansion cards have not been released yet - we will update this information as it becomes available.
Prusa XL Expansion Cards
No matter which version of the Prusa XL you purchase, you will always be able to upgrade it to five tool heads. So if you want to save some money now then you can opt for the two tool head version and upgrade towards five tool heads if deemed necessary.
Ultimate Resin Guide - compare resin printers, resin material, and equipment

Preparing for Resin Printing - setting up an enclosure, heating, ventilation, filtration, and cleaning equipment

FDM Printers Guide - comparison table and top picks for filament printers

Resin Properties or Filament Properties - comparison table and top picks for materials
Disclaimer: You assume all responsibility and risk for the use of, but not limited to, the resources, advice, and opinions of 4D Filtration or its employees. 4D Filtration or its employees do not assume any liability or create any warranty for the use of any information. 4D Filtration may receive commissions for referral links. Prices are approximated for simplicity and they may fluctuate due to sales or markdowns. Amazon .com should refer you to your local amazon site if you are not in the United States; there is a chance Amazon's link redirect system will take you to a different product.